The Sea ...And That
£

4.00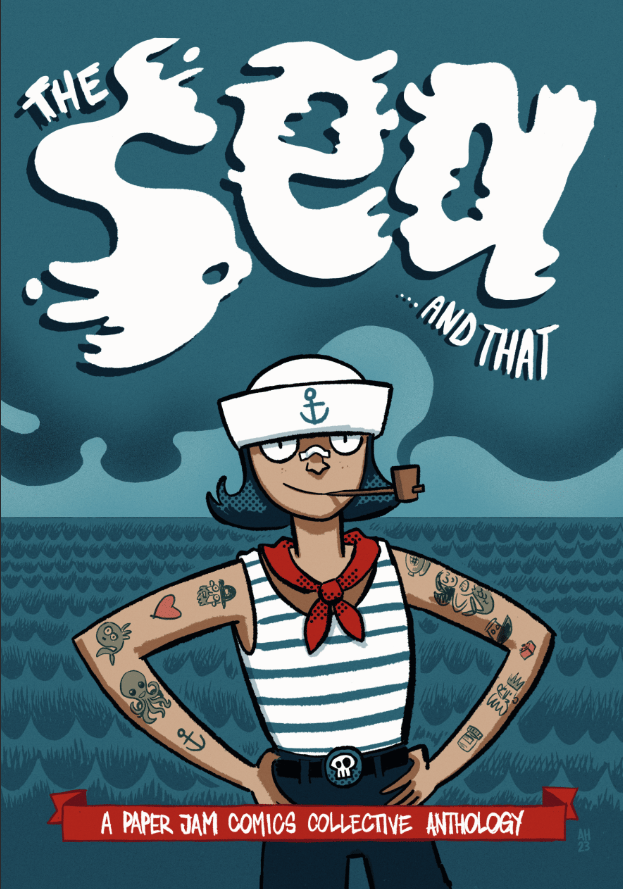 Paper Jam is back with a brand-new anthology - The Sea ...And That! 36 pages (well, including covers)! Loads of different creators interpreting the topic of the sea in loads of different ways!
Here's the full contents! Check out all this goodness!
My Dad, the sea and me by Ian Mayor [TW: @IanMayor]
Agnus Dei by Rafael Lima (illustrations) [IG: @rafalima831] & Gabriel Paredes (writing) [IG: @chimeracomics]
It's not that the sea doesn't like you… by Michael Dodsworth [deviantart.com/dodsy84]
Sea Story by Andy Houghton [IG: @snapped_lead]
Tynemouth Mermaids by Masked Emerald [maskedemerald.co.uk]
Fin by Coleslaw
Deep Sea Bubble-gum by Jack Waugh [ko-fi.com/jwaugh123]
The Plague by sidestep [IG: @_sidestep]
Sea Bloke by Ben Clark [magicbeanscomics.blogspot.com]
Eh, João! by Jon Sapsed [IG: @sapsedjonathan]
Cullercoats by Andy Law & Michael Duckett [IG: @mrmrduckett]
Golden City by Britt Coxon [britthub.co.uk]
Lost Cargo by Andrew 'Noggin' Gardner [IG: @shakeyournoggin]
There's plenty of fish (and sewage)… by Grace L.
Der Einzug by Torgo Wells [linktr.ee/torgowells]
untitled by Sara Qaed [IG: @saraqaed]
Been Down by Oscillating Brow [oscillatingbrow.blogspot.com]
Cube of Sea by Paul Thompson [hollowearth.co.uk] & Robin Coxon
Quite Some Time Since We Last Spoke by Adam Fallows [adamfallows.com]
The Truth About Mermaids by Lauren Matthews [laurenjmatthews.com]
Miscellaneous jam by Team PJCC
Front cover & contents by Andy Houghton [IG: @snapped_lead], back cover by Torgo Wells [linktr.ee/torgowells], compiled and prepared by Britt Coxon [britthub.co.uk]